Although I've seen Papa's Apothecary regularly at Everett Farmers Market the last couple of years, I knew very little about them and what they have to offer. That has changed, as I stopped by for a chat with Kevin Gilbert, Herbalist and Owner/Operator of Papa's Apothecary.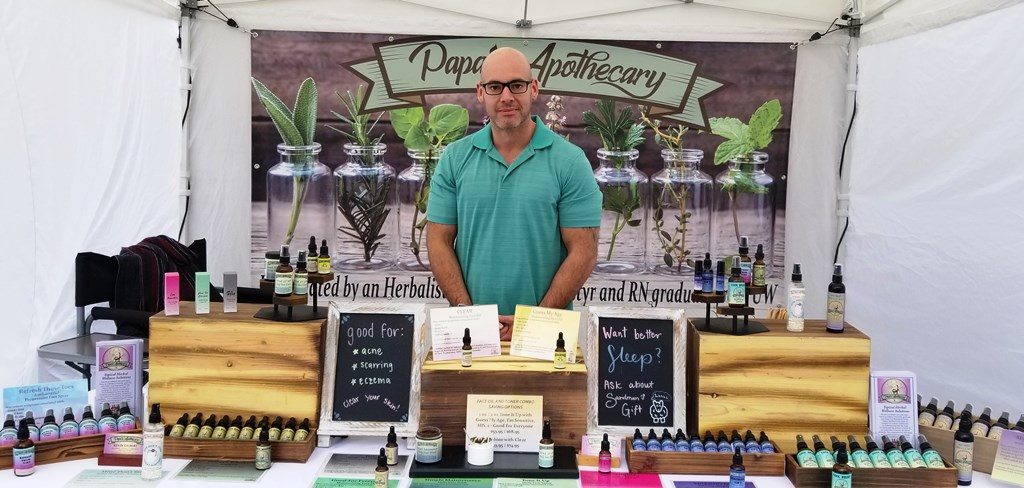 Kevin, I don't see too many five-syllable words at the Market. Would you define "apothecary"? Our Apothecary is a wellness center where people can come and get products to help them feel better, like a pharmacy, but all our products are formulated as topicals.
Who is Papa? Papa was my grandfather on my moms' side and a big inspiration for me to open Papa's Apothecary.
How long have you been coming to Everett Farmers Market? Our first market date was in September of 2017. Everett Farmers Market was also our first market t hat we became regular vendors with.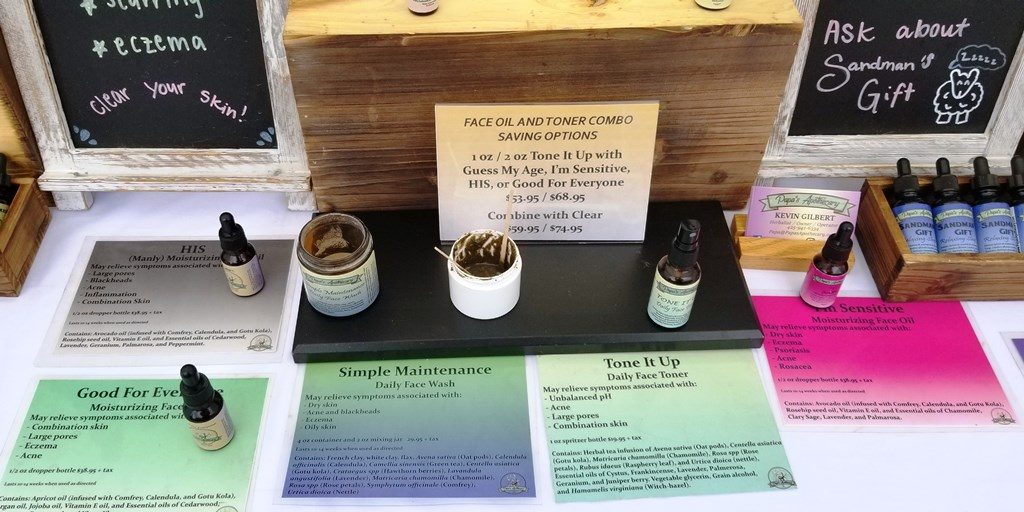 What's your background and how did get into this business? I grew up in Bothell and joined the Marines right after high school. After serving as an Infantry Marine, I tried several different jobs before landing at Microsoft. I was a software test engineer for almost 15 years but had almost no interest in the work. When Papa was nearing the end of his life, I was able to spend time with him and he inspired me to find something that called to me. So, I went back to school, earning my AA at Cascadia College and then my BS at Bastyr University completing the Herbal Sciences program in 2017. Bastyr was a wonderful experience. I learned so much and had so much fun that I decided to start our company rather than going to work for someone else again.
Aside from yourself, who else is involved in Papa's Apothecary? My wife, Dawn, is my partner and is a registered nurse. She has taken some herbal formulating classes and we work together to formulate products, decide the direction the company is going, and helps at markets when needed. Our daughter, Sophie, is always supportive and has done some social media and website work for us.
What are some of the things you sell at Everett Farmers Market? All our products are topicals formulated with herbs and essential oils. We create a sleep aid, face wash, toner, 5 different herbal infused face oils, a yoga mat spray, a pain reliever, a beard oil, a toilet perfume, and a peppermint foot spray. We have testers out for all our products at the market for customers to try out before making a purchase.
What items are the most popular with your customers? Sandman's Gift Relaxing Sleep Oil is our best selling product that we have the most repeat purchases of. We offer this in a dropper or roll on, and have an option that is lavender free. Guess My Age Moisturizing Face Oil and Tone It Up Daily Face Toner Combo are a close second for most popular and most repeat purchases, and then third most popular is My Mat Smells Nice Yoga Mat Spray.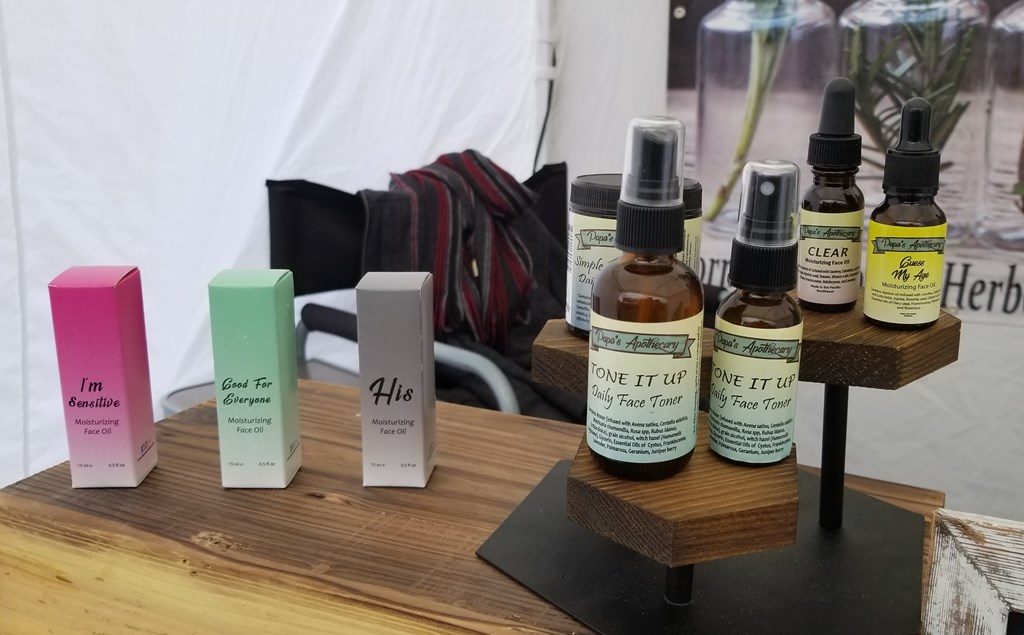 What are the sources of your products? I source our raw materials (essential oils, carrier oils, and herbs) from Mountain Rose Herbs in Oregon, Dandelion Botanicals in Ballard, Herban Wellness in Kirkland, or Eden's Garden in California. But all the products as they are sold are formulated in house. We do not outsource any product creation. Each oil or herb purchased is an individual that is then blended with others in our lab to create the products.
Can you talk a bit about some of the benefits customers receive from using your goods? Sandman's Gift Sleep Oil can help people that have trouble falling asleep or staying asleep – getting the sleep and recovery we need is important to every aspect of our lives. Using our face wash, toner, and face oil brings the benefit of all-natural botanicals into your routine. These are restorative, antioxidant rich, fight inflammation, and are free of any preservatives that do not benefit your system. We have blends that fight acne, relieve eczema flare, reduce fine lines, moisturize, and more. And some of the products like our yoga mat spray or peppermint foot spray are antibacterial but also improve what may be stinky, stinky areas.
How about you? Which of your products work especially well for you personally? Sandman's Gift Relaxing Sleep Oil is the first product that I formulated before starting Papa's Apothecary. I can generally fall asleep but tend to wake up every few hours. Sandman's Gift helps me get better sleep and wake up feeling rested but not groggy. I also use the face wash, toner, and alternate the face oil I use – but these are staples. I also really like doing hot yoga so after classes I am sure to use My Mat Smells Nice Yoga Mat Spray to disinfect and improve the smells.
As someone who practices yoga a couple of times a week I can appreciate that! Where else can we find your products and can we buy direct from you? www.PapasApothecary.com is the direct source outside of the markets where you can order all our products. You can also buy from our social media outlets – and often we will make special offers through these channels so follow us at facebook.com/PapasApothecary and Instagram.com/Papas_Apothecary. In addition to Everett, we have a presence at the following farmers markets: Snohomish, Stanwood, Mount Vernon, and Anacortes. You can also find our Yoga Mat Spray at BeOne Yoga in Kirkland.
Thanks for taking time to chat. Is there anything else that you would like to say about Papa's Apothecary for this story? I want to thank Everett Farmers Market for taking a chance with us and giving us space to grow, learn, and improve how we do things. I absolutely love working as an Herbalist, formulating and creating our products, and then sharing them at the market. Come by and say hi to us and find something that makes you feel nice!