FARM FRESH VEGGIES IN A SAVORY BROTH TOPPED WITH HAM SHANK FROM HOGSTEAD FARM. USE YOUR IMAGINATION WITH YOUR VEGGIE HARVEST. YIELD: About 8 cups
INGREDIENTS
(1) 2# Smoked Ham Shank
Water
2 Medium Onion(red, yellow, or white) small diced
2 Tbsp. Coarsely chopped fresh garlic
2 Bay Leaves
Sprigs of Fresh Thyme
1 Cup chopped Celery
1 Cup julienne Carrots
2 Cups diced Green and/ or yellow zucchini
1 Diced Fresh Tomato
Crushed Red Pepper
Black Pepper
Kosher or sea salt
6 cups Chicken or veggie broth
Additional Olive Oil for drizzle
Herb Garnish: I used fresh basil and celery leaves
DIRECTIONS
In a medium saucepan,cover shank with just enough water to cover. Simmer on low for about 2 hours.
While the shank is simmering, prepare your soup.
Saute' onions, garlic, herbs, seasonings and celery in small amount of olive oil until softened. Add remaining vegetables and cook until firm, yet tender.
Add 6 cups of chicken or veggie stock and simmer on low for 30-40 minutes.
Remove shank from saucepan when fork-tender. Set aside to cool for 5-10 minutes; shred.
Add small amount of simmering liquid from the shank to the soup pot.
Adjust seasonings as desired.
When ready to serve, ladle soup into bowls.
Top with shredded shank, a drizzle of extra virgin olive oil, fresh celery leaves and fresh basil.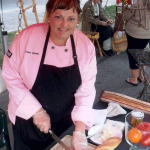 Dana Daniel Catering and Community Meals Manager at Kindred Kitchen in Everett. Dana loves sharing how to prepare locally grown food, in season, where she lives.