Maggie Nilan and Brent Charnley have been in the wine business for quite a while. They have also been making regular appearances at Everett Farmers Market over the last decade. I recently reached out to Maggie to ask a few questions. (Article was written in 2020 during Covid)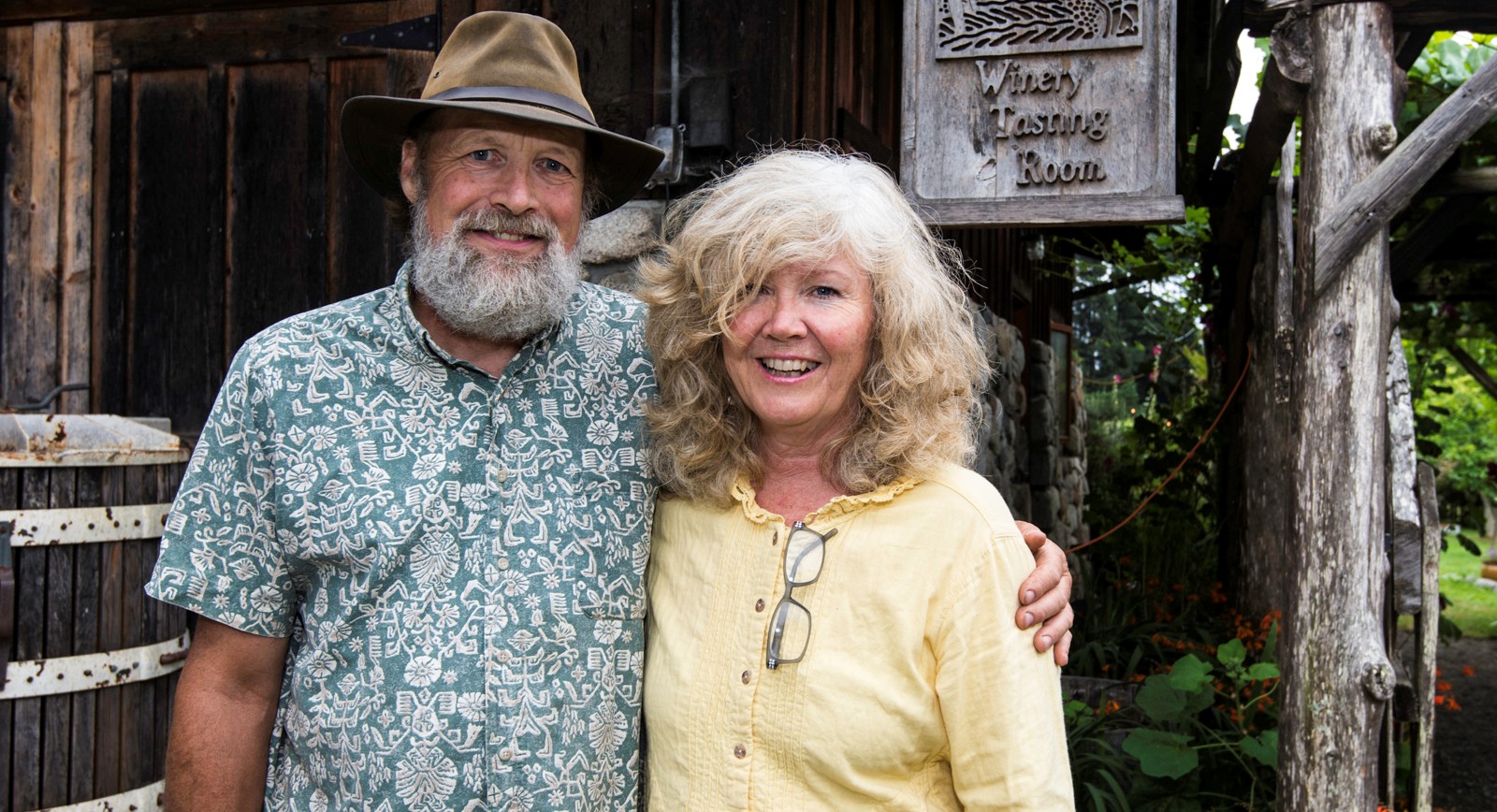 How long has Lopez Island Vineyards been in existence? 33 years! We have been growing grapes organically and making wine since 1987.
On what part of Lopez Island is the vineyard? We are located on the Northwest part of the island, in a perfect micro-climate to ripen the grapes that we grow.
Do you grow all of your grapes on site? We grow two white wine grapes mainly, Madeleine Angevine and Siegerrebe. Both are European varietals. Madeleine is originally from the Loire Valley in France where they typically grow Sauvignon Blanc. We find it very similar and the wine produced tastes much like the French sauvignon blanc.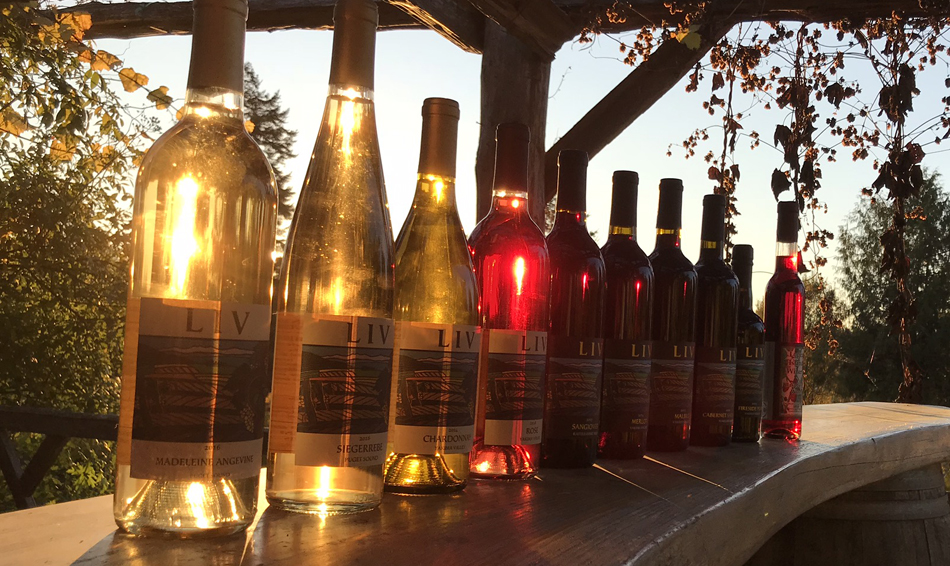 Siegerrebe is originally from the Alsace region of Germany. It is related to Madeleine and the Gewürztraminer grape. It has a unique delightful floral aroma and notable fruit quality. We finish off-dry or with a hint of sweetness.
We also grow a small amount of a pinot noir grape and on the years when we get that one to full ripeness it makes a beautiful, comparable pinot to any we've tried. The other varietals we produce, Chardonnay, Rose, Sangiovese, Malbec and Cabernet, we receive from two different small-scale family growers in the Yakima Valley.
How large is the vineyard? A little over 5 acres.
How many bottles do you produce in an average year? About 1200 cases or roughly 14,400 bottles.
How long have you been coming to the Everett Farmers Market? Many years! Since around 2010.
What varieties of wine can we expect to see at the Market? We have Reds and our Chardonnay made from grapes acquired from Eastern Washington. We also have a Rose made with Merlot and Syrah grapes. A Sangiovese- a lighter, fruitier bright red great with pizza and other typical Italian style meals. A Malbec- dry berry, cedar, slightly smoky, with black pepper flavors that are great with grilled foods, particularly meat. A Cabernet-Merlot Red Blend called Raven's Caw, a multi-layered rich complex red wine. For dessert wines, a Port Style wine we call Fireside (made from Malbec and Sangiovese grapes), plus a Raspberry wine made from berries organically grown near Monroe by Broer's Family Farm.
What is the best selling wine that you've created? Our Lopez grown Organic Madeline Angevine and Siegerrebe, and our Fireside (our Port-style wine).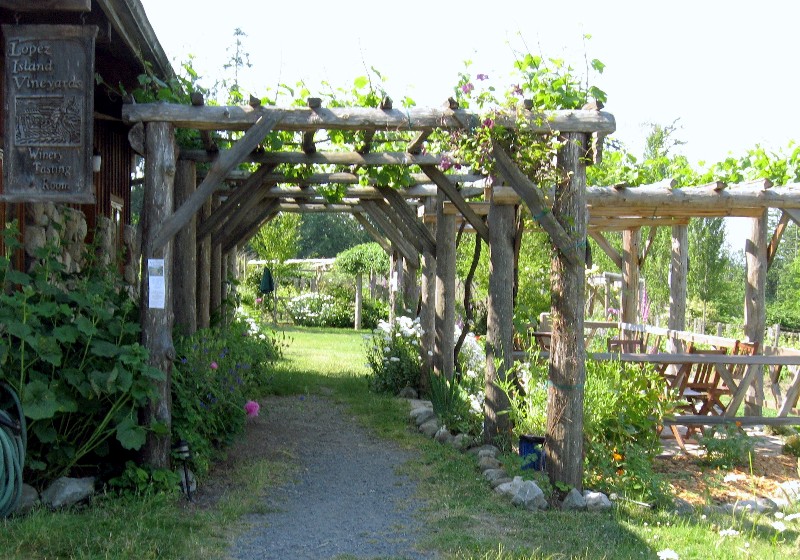 What is your favorite wine that you produce? The ones we grow- Madeleine Angevine and Siegerrebe, though we are also quite happy and proud of the wines we've made from Eastern WA. They are made with grapes grown at Crawford Family Vineyards outside Prosser, whom we have done business with since 1992. Also, for about 10 years, we have included Elephant Mountains' Hattrup Vineyard into our production for Sangiovese.
We have consistently won awards for our wines over the past 33 years that LIV has existed. Beginning back in the earliest days when our purchased grapes were the first wines we entered into competitions: The Oyster Award for our first Chardonnay was probably our earliest delight. Though we have always wanted our Madeline to win that one as we think it pairs the best with "Harvest from the sea", never the less, we have won numerous Gold medals for this and the Siegerrebe wines we produce.
With Covid 19 restrictions currently in place, these are not normal times. Will the public be able to visit and shop at the vineyard on Lopez Island when restrictions are lifted? In these Covid times we have not opened our vineyard to the public. When we again do open our doors for wine tasting it will be on Saturdays in the afternoon after the Lopez Island Farmers Market. Our wine is now available at a few stores and restaurants (take-out only) in Anacortes and stores on the islands including the grocery stores on Lopez.
Thanks, Maggie! It sounds like you and Brent have plenty of things going on at the vineyard to keep you busy. More information on Lopez Island Vineyards can be found at their website: http://lopezislandvineyards.com/shop/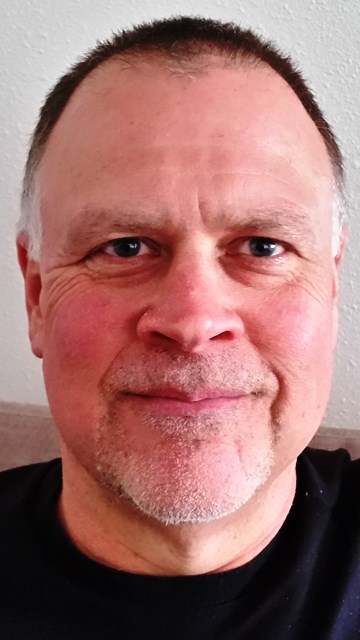 Joe Clark is a retired Boeing Project Manager. He enjoys volunteering, writing, exercise, discovering new things in Snohomish County, and trying to grow the perfect jalapeno peppers at his Bayside P-Patch plot.