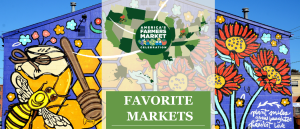 (Washington, D.C. — September 21, 2023) – American Farmland Trust and the Farmers Market Coalition announce the winners of the 15th annual America's Farmers Market Celebration, a national event honoring the role of farmers markets that ran between June 21 – September 18, 2023. Markets receiving the most public votes are declared the national winners. The celebration also recognizes top markets in five regions nationwide and in all 50 states. More than 2,000 markets nationwide participated in the 2023 celebration with over ten million supporters engaged through voting, visiting the celebration website and engaging with the celebration on social media.
Since 2008, the celebration has highlighted the important role farmers markets play in American communities and our larger food system. Farmers markets are on the leading edge of educating consumers about where food comes from and reinforce AFT's message of No Farms, No Food. They foster direct relationships between community members and farmers to help create a more fair, sustainable and just food system. Participating in the Celebration is a way for people to come together and support their communities and local food producers.
1 Maple Valley Farmers Market | Maple Valley, 2 Auburn Farmers Market | Auburn, 3 Roslyn Farmers Market | Roslyn, 4 Des Moines Waterfront Farmers Market | Des Moines, 5 Chewelah Farmers Market | Chewelah, 6 Everett Farmers Market | Everett.
Thanks For Voting!