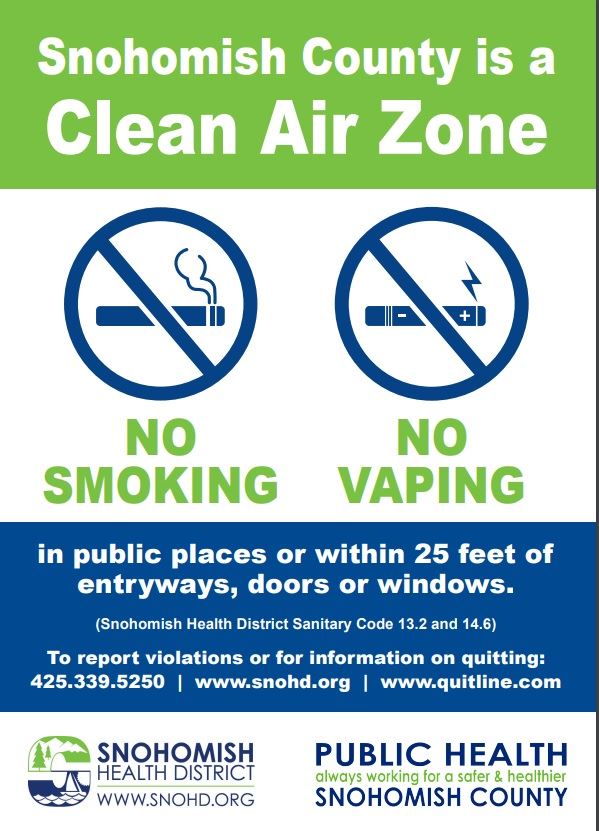 The Everett Farmers Market is partnering with Snohomish Health District to expand the smoke-free policy that has been in place for several years. We are now a tobacco-free market, supporting the 85% of Snohomish County adults who do not smoke and proving a healthy environment for all.
The Everett Farmers Market believes in creating an environment that is family friendly, pet friendly and employee friendly. The new tobacco-free policy will encourage our kids to make healthy choices by modeling healthy behavior and protect our vendors for whom the market is their workplace and community members from secondhand tobacco smoke.
Going tobacco free means: No smoking – No chewing – No tobacco use
Even outdoors, secondhand tobacco smoke can cause problems. Adults with heart disease and children with asthma are very susceptible to even a little secondhand tobacco smoke. Cigarette butts are not only a big source of litter but of fires as well in the landscaping around our market. Our pets are also affected by breathing secondhand smoke, and chew and spit have no place in a family friendly setting.
"Look for the signs provided by Snohomish Health District to designate our Smoke and tobacco-free market".
Information about how smoking, chew and secondhand tobacco smoke affect your health and the health of your family and pets will be at the "main market headquarter booth" along with cards for the Washington State Quit Line.
Farmers Markets are an excellent opportunity for community members and guests to find a wide variety of fresh, locally grown and produced foods, flowers, unique works by local artisans and craftsmen, as well as other delightful finds in a fun and casual atmosphere. We will continue to support our local growers and craftsmen and the local economy in a setting that provides a healthy and fun environment for young and old alike.