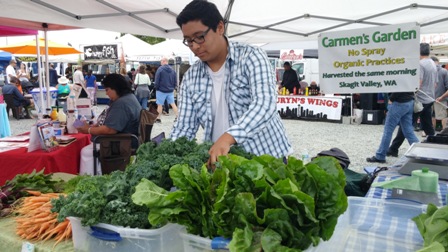 This week, the Everett Farmers' Market chatted with Joseph, one of the smiling faces behind Carmen's Garden. An independent produce farm located in Skagit County, Carmen's Garden is maintained by Carmen and Gaspar Rojas, Joseph's grandparents. We caught up with the cheerful and friendly teenager as he fluffed verdant leafy veggies and rearranged his booth's vibrant display of carrots. His youthful enthusiasm and dedication to his family's stand were a treat for this EFM interviewer to witness.
EFM: What is your grandparent's booth about?
Joseph: We sell food from my grandparents' farm, which is in Sedro-Woolley. They have some chickens there, but the main part is all garden vegetables. My grandparents mainly work on the farm all time.
EFM: What kinds of food do you produce on the farm?
Joseph: We produce lettuce, broccolini, peas, zucchinis, chard, kale, carrots and beets.
EFM: For how long have your grandparents been producing these vegetables?
Joseph: Since before I was born.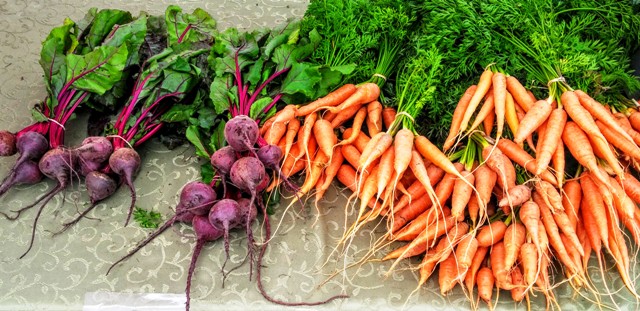 EFM: And how long ago was that?
Joseph: Fifteen years ago!
EFM: Wow! So why are you helping your grandparents out instead of sleeping in on Sundays like other teenagers?
Joseph: I help out because it's an important job experience for me. But I also just want to help my grandparents out. It's hard working both on the farm and at the market, especially when it gets really crowded– and my grandparents don't speak very much English. It can get difficult. So when I'm here, I try not to let them help too much because I want to do as much work as I can.
EFM: What have you learned from this experience?
Joseph: I've learned social skills and money skills…and math skills! I wasn't good at math before! You just learn how to deal with things on the fly.
EFM: What did your grandparents do before you started helping them out?
Joseph: Different family members have pitched in– I definitely wasn't the one helping, growing up. My brother used to do it. My cousin worked with me for a while, too, but now it's just me.
EFM: What do you think about the Everett Farmer's Market Community?
Joseph: I love being a part of it, and I've been a part of it for a really long time. Interacting with the community is probably my favorite part about the market.
EFM: What would you like this community to know about you?
Joseph: That I've been doing this for a long time, since I was six or seven, and that I want to keep being a part of the community for as long as I can.
EFM: What is your personal favorite part about being here on Sundays?
Joseph: Growing up as a kid, I used to love eating the food! But I think I grew more to love the vendors, because I think they're just great people.
Writer MacKenzie Kermoade grew up in Everett, Washington, and is an Environmental Studies student at Soka University of America. Her aspiration is to eventually return to the Salish Sea as an advocate for integrated marine policy between British Columbia and Washington State.
As an urbanist and environmental enthusiast, she is extremely excited to work for the Farmer's Market watching her community connect and farm-to-table interactions unfold. She can be contacted at mkermoade@soka.edu.