Here is "part two" of the interview MacKenzie Kermoade did with Hmong growers at the Everett Farmers Market.  This interview was done with Chu from Neng Garden. If you did not read the 1st interview with Mary of Teng's Garden click here to read it too.
EFM: How long have you been working here?
Chu: My whole life, basically– almost 26 years!
EFM: And how long have your parents been working at it?
Chu: They began the business in 1982.
EFM: Can you tell me a little bit about the booth?
Chu: We started off really small, just producing vegetables. But the flower business picked up about fifteen years ago, and as the market expanded, we shifted into flower production as well. We have two stall booths here, every Sunday. Usually, my sister and I work the flowers, and my Dad and my sister's boyfriend work the vegetables.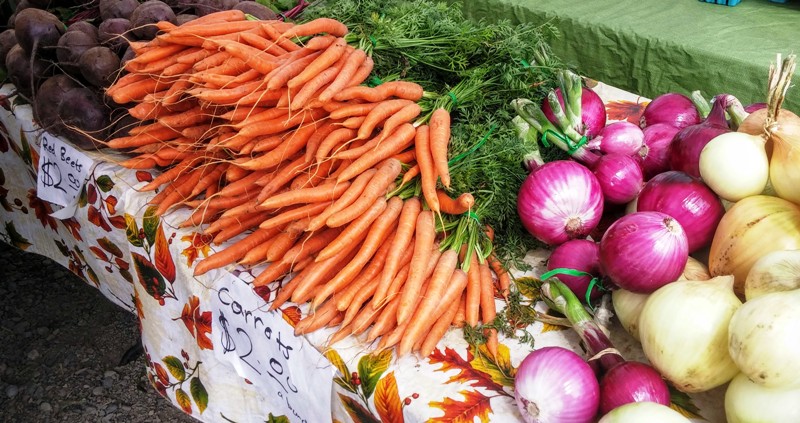 EFM: Where's your farm located?
Chu: Snohomish, not too far from here.
EFM: What kind of flowers do you grow?
Chu: Our flowers really depend on the season. During the spring, we usually have tulips and daffodils. Dahlias and lilies come in right as summer starts. We have to grow filler greens, which we add to the flower bouquets to make them look plumper. And we also dry flowers so we can sell bouquets during the winter when nothing is growing.
EFM: What do you think is the secret to making these beautiful bouquets?
Chu: To be honest, I more or less just copied my sister's style! She's been at it for a while. I think just over time, you develop your own technique.
EFM: Why did your parents start with growing vegetables?
Chu: When my parents immigrated here, they didn't really speak English, and they didn't have any other kind of skills other than farming. The environment and the produce is much different in Laos and Thailand– so here, in Washington, they just had to start with the vegetables that grow well here.
EFM: What challenges do you face as producers?
Chu: The environment is always a factor– it's been getting hotter and hotter each year. Another factor is competition. The last couple of years, more and more flower vendors have appeared, and there aren't that many markets to go around. We'll always have a spot here; we came here the very first day. Other than climate and competition, we've been lucky. Business has been pretty steady and strong.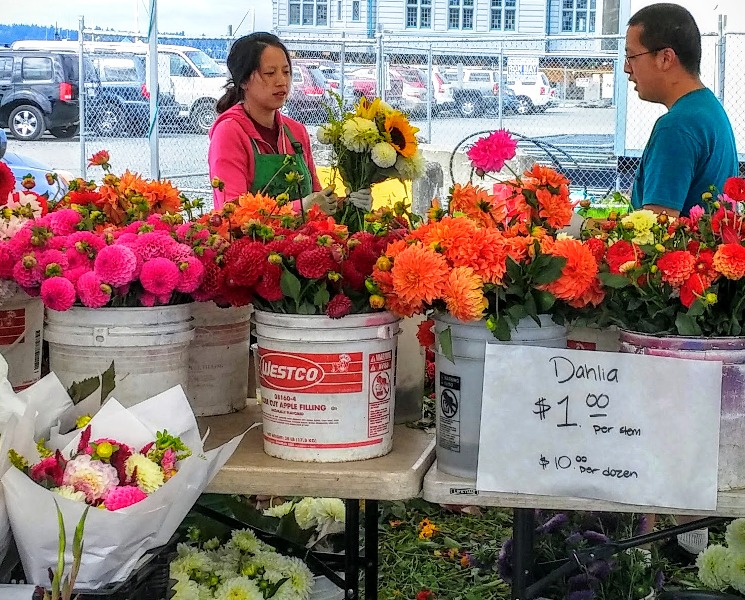 EFM: Do you envision yourself staying on at this booth, or do you have plans to move on?
Chu: That's a hard question. I've been doing it for so long with my parents. I know eventually they'll have to stop. They approached me with the idea of me continuing the business, but I'm not too sure.
EFM: What do you enjoy doing in your free time?
Chu: I actually don't have much of it! My sister and I are usually always doing something. My sister wants to be a pharmacist, so she's always studying. Most of my free time, I visit the farm, or make what they call "straw flowers" at home. The more relaxing side of our work.
EFM: What do you wish that market patrons knew about your work and your booth?
Chu: As nice as it is to see these bouquets, a lot of people don't realize how much work we put into them. My parents woke up at 4:30 just so they could go pick corn, and we woke up around six to set up the booth. It's harder than people realize.

Writer MacKenzie Kermoade grew up in Everett, Washington, and is an Environmental Studies student at Soka University of America. Her aspiration is to eventually return to the Salish Sea as an advocate for integrated marine policy between British Columbia and Washington State.  As an urbanist and environmental enthusiast, she is extremely excited to work for the Farmer's Market watching her community connect and farm-to-table interactions unfold. She can be contacted at mkermoade@soka.edu.