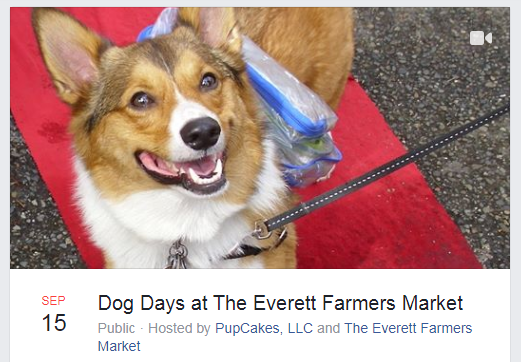 Celebrate a dog-friendly market while our good weather lasts! Stroll about and enjoy delicious food, beautiful flowers, abundant vegetables, handmade soaps, lotions, and potions, and gifts for all while your pooch samples PupCakes.
Enter the free raffle to win a PupCakes Gift Bowl. Join in the fun at the PupCakes Cake Walk where you and your pup have several chances to win a PupCakes Wild Paw Cake!
Pick up a Dog Supply List for zombie attack or other random emergency, because…you know…preparedness and stuff. Click the link for Pupcakes https://www.facebook.com/PupCakes-LLC-258376214180526
Visit The Everett Farmers Market this Sunday September 15th from 11am to 4pm. where PupCakes always has the big red water bowl full. Well-behaved leashed humans are welcome! And remember to wear your Seahawks colors!