One of the many pleasures of visiting Everett Farmers Market is the array of colors which are on display every week.  If you're looking for a bouquet of beautiful flowers (as we are most weeks) there are several choices at the market.  One of our favorites is Teng's Garden, a family owned and operated farm which has been coming to the market for over ten years. I recently spoke with Phavana Chang of Teng's Garden to ask her a few questions: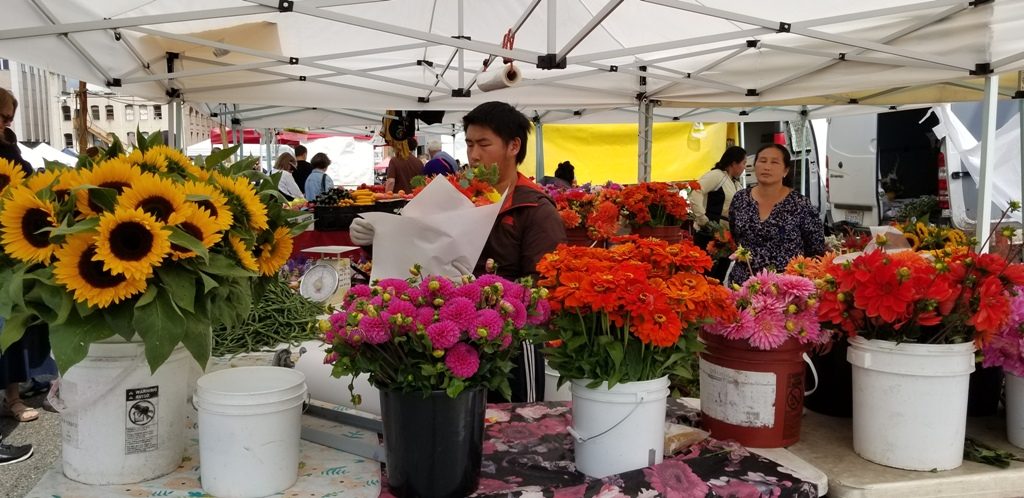 First, where is Teng's Garden located?
Teng's Garden is located in Snohomish.
What is the size of the farm?
The farm is on eight acres.
How long have you been coming to Everett Farmers Market?
We've been coming to the Everett farmers market since 1998 when the market was next to Lombardi's on the Everett waterfront.
How did Teng's Garden get into the farming business?
A second income wasn't necessarily needed, but it sure helped out. Our family started with a small flower business like many other people in the Hmong community. We began with a little less than an acre and slowly, year after year, it started to grow.
How many people work at Teng's Garden and is it mostly a family business?
It is a family business and we all pitch in. There are currently seven of us helping out.  We plow and till the ground, plant, maintain, and cut all the flowers ourselves.  
What kinds of flowers and plants are grown at the garden?
To name a few, tulips, iris, peonies, sunflowers, dahlias, daisy, snap dragons, asters, lilies, lupine, stock, statice, and filler flowers. We also grow beets, onions, green beans, and sugar snap peas.
That's nice to know you have vegetables as well. Is everything you have for sale at Everett Farmers Market grown locally?
Everything is grown locally here in Snohomish
What types of flowers are the most popular for your customers ?
Tulips, peonies, lilies, dahlias, and sunflowers are the most popular flowers.
Once we get our flowers home from the market, how do we make them last as long as possible ?
Crushing some aspirin and mixing it into the water works well. A new trend is pouring half a can of Sprite and mixing it in water. This helps keep the water clean. And of course, placing it in a cool area away from direct heat and sunlight will prolong the life of the flowers, as well as trimming the stems when changing water.
Sprite…who knew? Where else can we find Teng's Garden and can we buy direct from the farm?
We also attend the Columbia City Farmers Market down in Seattle on Wednesdays. Snohomish farmers market on Thursdays.  Edmonds Garden (Summer, and Winter) Farmers Market on Saturdays, and Capital Hill Farmers Market on Sundays.
Does Teng's Garden provide for special events such as weddings?
Yes, if we have the flowers, we do. We can sell in bulk or in arrangements.
Is there anything else that you would like to say about Teng's Garden for this story?
All the flowers we don't sell during the market day are thrown into our compost pile. We pick our flowers fresh for each market day the day before or the morning of the market. Our bouquets that we don't sell at the end of the day are brought over to nursing homes.
That's a perfect thing to do with those leftover bouquets and a nice way to end this interview.  Thanks, Phavana, and we'll be looking for you and your family at the Sunday Everett Farmers Market.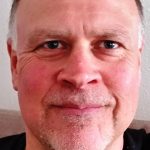 Joe Clark is a retired Boeing Project Manager. He enjoys volunteering, writing, exercise, discovering new things in Snohomish County, and trying to grow the perfect jalapeno peppers at his Bayside P-Patch plot.